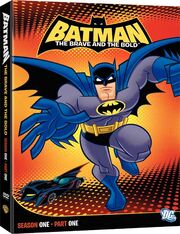 Batman: The Brave and the Bold is an American animated television series based in part on the DC Comics series The Brave and the Bold which features two or more super heroes coming together to solve a crime or foil a super villain. As the title suggests, the cartoon focuses on Batman's regular "team-ups" with various heroes similar to the most well-known version of the original comic book series. The series premiered on November 14, 2008 on Cartoon Network in the United States, and ended on November 18, 2011.
Ad blocker interference detected!
Wikia is a free-to-use site that makes money from advertising. We have a modified experience for viewers using ad blockers

Wikia is not accessible if you've made further modifications. Remove the custom ad blocker rule(s) and the page will load as expected.