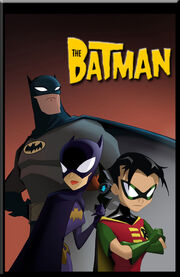 The Batman is an American animated television series produced by Warner Bros. Animation based on the DC Comics superhero Batman. It ran from 2004 to 2008, on the Saturday morning television block Kids' WB. Reruns of the first two seasons air on the Boomerang channel as of 2009, and all of the seasons were then aired on the British TV channel Cartoon Network.
Although the series borrows many elements from previous Batman storylines, it does not follow the continuity set by the comic books, the film series, nor that of Batman : The Animated Series or its spin-offs. The character designs were provided by Jackie Chan Adventures artist Jeff Matsuda; he also directed the ending. The series won six Emmy Awards.
Ad blocker interference detected!
Wikia is a free-to-use site that makes money from advertising. We have a modified experience for viewers using ad blockers

Wikia is not accessible if you've made further modifications. Remove the custom ad blocker rule(s) and the page will load as expected.